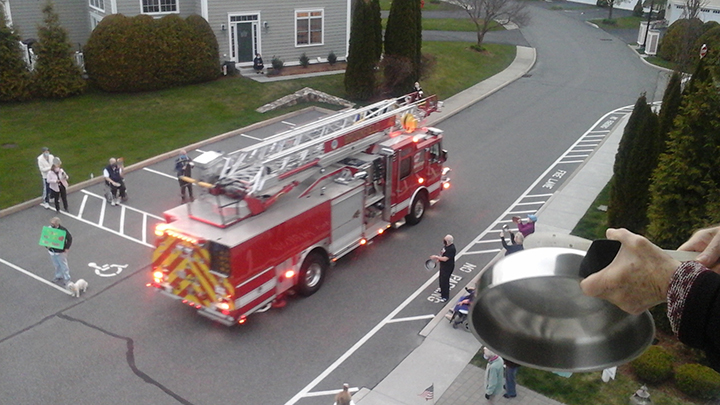 As part of the celebration, Brookfield Fire Department were on our roads to contribute with noise! We joined our Fire Fighters and our neighbors and create some noise Saturday, April 25, for five+ minutes starting at 7 p.m. Residents gathered outside, grabbed bells, pots and pans, bells, whistles and voices to celebrate Brookfield!
The purpose was to give thanks to our:
Healthcare workers in hospitals and medical offices;
Firefighters keeping us safe, and bringing smiles to those celebrating birthdays as they drive by our homes with sirens blaring and lights flashing;
Police Department making sure we are safe and sound;
EMT's on constant call to take our loved ones to get care;
Teachers virtually educating our children, and creating a parade to wave to their students;
Students working hard studying virtually;
Food handlers at grocery stores and restaurants
Neighbors sewing facemasks or assembling 3D parts for medical equipment;
Food Bank volunteers making sure everyone has food and home supplies;
Neighbors donating to the Brookfield Recovers Together special fund helping those affected by the virus;
Local businesses sharing their PPE masks and gowns to those on the front line;
Neighbors who are staying home to help keep us all safe and healthy.