NEWBURY VILLAGE VOTED BEST ATTACHED 55+ COMMUNITY IN CT AGAIN!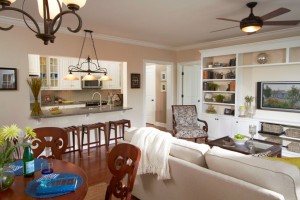 Newbury Village is the winner of five more HOBI Awards for 2013 including BEST ATTACHED 55+ COMMUNITY IN CONNECTICUT and BEST ATTACHED 55+ HOME UNDER 2,000 SF for their Boothbay Model.  The HOBI Awards, sponsored each year by the Home Builders and Remodelers Association of Connecticut, recognizes excellence in the design, construction, sales and marketing of new homes throughout the state.  The awards are the culmination of a record-setting year for NewburyVillage.  "The sales activity this year has been incredible." said Jay Metcalfe, Community Manager for NewburyVillage, "We sold more homes in 2013 than any year since the community opened."  Jay attributes the sales success to a combination of a healthier real estate market in general combined with the introduction of the Grand Coach Homes at Newbury Village.  "In the Spring, we opened the Boothbay model, which folks love and has been selling great ever since." said Jay, "In fact, we only have a few Boothbays left available in the whole community."
Since opening for sale in 2011, the first two offerings of Coach Homes have almost completely sold out.  Construction has just begun on the third and final offering of Coach Homes, with homes being delivered early Fall 2014, and already there have are several agreements in place.  "There has been a ton of interest in this last building as folks have wanted to grab the best locations before they are gone," said Jay, "We encourage anyone who has been thinking of living at Newbury Village to act quickly if they want to lock in a great location and still have time to customize their home the way they want." he said.
Newbury Village offers three attractive, single-level home styles with extra bedrooms for family or other guests in addition to private parking and storage. The homes are designed for residents who seek a more relaxed, maintenance-free and stress-free lifestyle in an amenity-rich community where all exterior maintenance, including landscaping, gutter maintenance, and snow removal is provided.
What also makes Newbury Village unique in comparison to other condominium communities in the area is their ability to customize to fit buyer's specific needs.  Built by Charter Group, Inc., a regional luxury custom homebuilder, buyers have the opportunity to meet with the builder and customize their home to fit their lifestyle.  "Since our background is building luxury custom homes, we pride ourselves on the ability to work with our buyers to tailor their home to fit their individual needs and taste", said Jay.
The energetic, active-adult community has much to offer residents. Residents can spend time outdoors enjoying the patio facilities featuring a barbeque grill, a white pergola, and a lovely community fountain. Nestled on 43+ beautiful acres on Great Heron Lane, residents will appreciate the community's wealth of preserved open space and picturesque nature trails. A nearby river offers kayaking and canoeing. The Newbury Club, winner of the prestigious HOBI award for BEST COMMUNITY CLUBHOUSE IN CONNECTICUT, is a regular meeting place for residents-only. Here, you'll find an outdoor pool, fitness center, private locker rooms, billiards, a multi-purpose room, and the grand Newbury Room that residents use for various community events. The Newbury Club also features community activities, such as movie nights, dinners, yoga classes, card games, wine tastings, guest speakers, and more. Residents have access to nearby amenities, including an abundance of dining and shopping venues, state parks, golf courses, and more.
Newbury Village was won more awards than almost any other community of its kind in Connecticut.  Nowhere else can you experience a magnificent carefree lifestyle in a gorgeous home with fabulous neighbors, a beautiful environment, and a vast array of amenities. NewburyVillage is the place to live your best life now!
 Tour the brand new furnished Arcadia model home at Newbury Village, 311 Still Water Circle, Brookfield. The model is open Monday through Thursday 11a.m. to 4p.m and Friday through Sunday 11a.m. to 5p.m. For more information, call (203) 775-0000 or visit www.NewburyVillage.com .